Jak zrobić bransoletkę kumihimo?
Stosując zaczarowaną japońską sztuką plecenia kumihimo przedstawimy Państwu instrukcję wyplatania bransoletki – krok po kroku. Bransoletkę wykonała dla nas p. Magdalena, która prowadzi blog
www.szydelkowe-chwile.pl
i z którą współpracujemy. Cytujemy p. Magdę: w moim małym tutorialu proponuję wykonanie jednego z podstawowych schematów plecenia z 8 jednokolorowych sznurków (oczywiście kolorów sznurków może być więcej).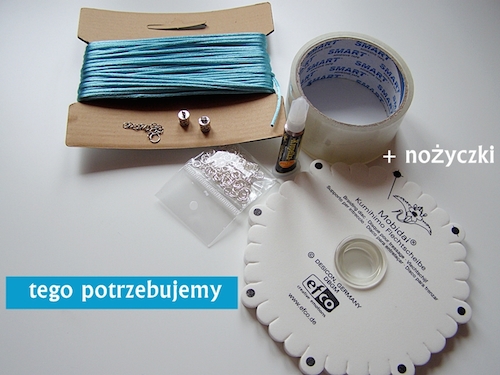 Co będzie nam potrzebne?
8 sznurków satynowych o długości 50 cm (2mm lub 1 mm) lub 4 sznurki o długości 1 m złożone na pół
2 ogniwka
zapięcie karabińczykowe
klej typu "kropelka", "super glue"
przezroczysta taśma klejąca
nożyczki

Kilka dobrych rad
Zanim przystąpimy do plecenia warto poznać kilka przydatnych informacji.
Musimy pamiętać o tym, by nie pomylić się podczas przekładania sznurków, wystarczy odrobina uwagi i skupienia. Warto pamiętać też, by utrzymywać jednakowe naprężenie sznurków.
Jeśli zaczynasz swoją przygodę z kumihimo, to polecam skorzystać z gotowych piankowych dysków, są sztywne i przede wszystkim nacięcia, które posiadają są tak przygotowane, żeby utrzymać sznurki – także w odpowiednim naciągnięciu.
Z powodzeniem można użyć do plecenia grubszego kordonka lub bawełnianej włóczki, choć moim zdaniem najefektowniej w bransoletce wyglądają te z połyskiem (zwłaszcza satynowe sznurki).
Niektórzy by ułatwić sobie plecenie, dowiązują na końcach sznurków/nitek jakieś przedmioty – ma to zapobiec plątaniu się zwisających końcówek - wierzcie mi na słowo, że bywa to frustrujące (najmniejsze ryzyko jest, gdy wyplatamy z satynowego, gładkiego sznurka).
Zaczynamy!
Plecenie rozpoczynamy od złożenia do siebie wszystkich sznurków i zawiązania jednego supła. Ja będę plotła z 4 dłuższych sznurków – dlatego składam je do siebie, potem na pół i wiążę supeł.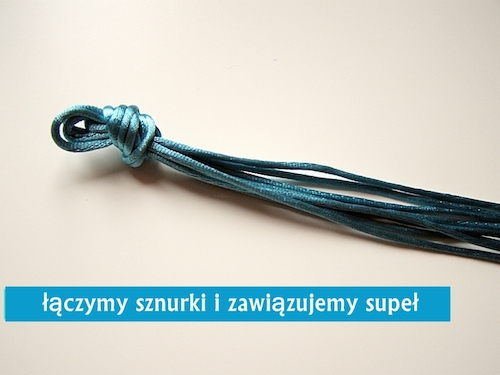 Kolejny krok, to włożenie supła do otworu dysku i rozłożenie sznurków w nacięcia – jak na załączonym zdjęciu.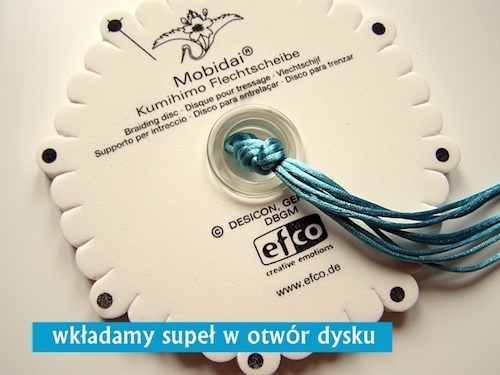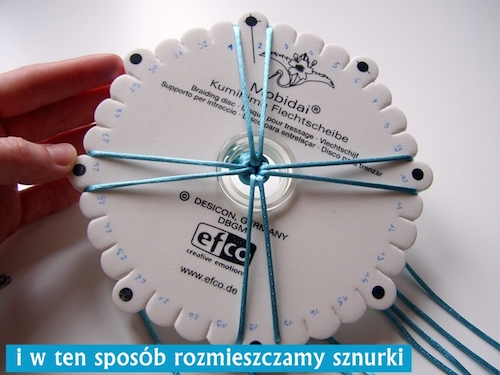 Kiedy mamy już poukładane sznurki przystępujemy do ich przekładania. Myślę, że zdjęcia lub mały filmik lepiej to zobrazują.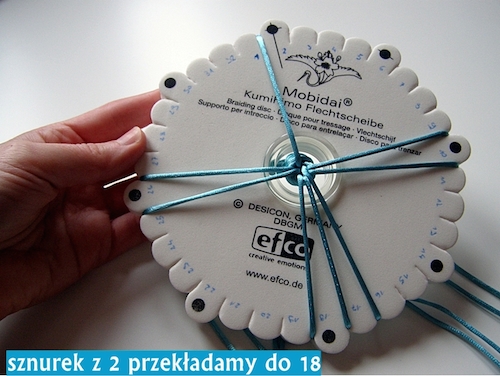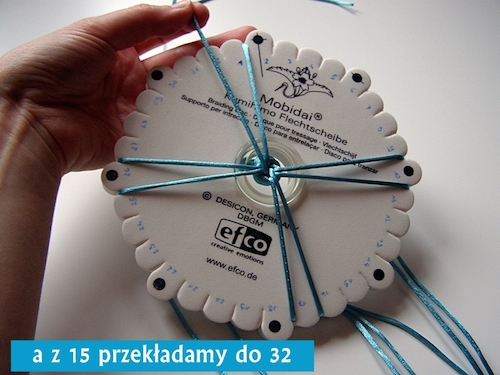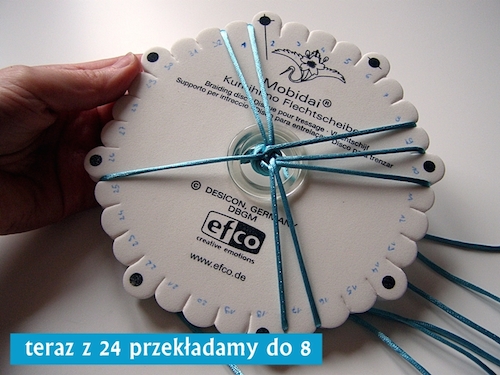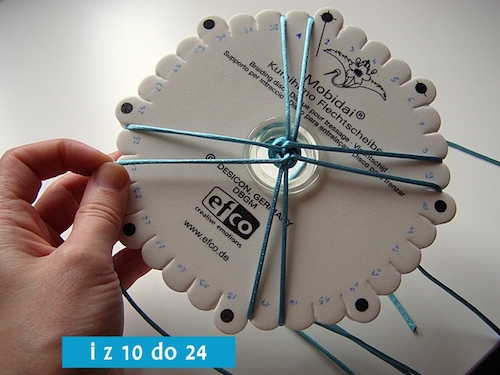 Zauważcie, że podczas przekładania sznurków dysk kręci się w rękach zgodnie z ruchem wskazówek zegara.
Dla wszystkich tych, którzy wolą jednak zobaczyć o co chodzi w praktyce przygotowałam krótki filmik instruktażowy przekładania sznurków.
Postępujemy zgodnie ze schematem przekładania (najpierw górny sznurek z prawej stronie trafia na dół – też na prawo; potem dolny lewy trafia na górę – na lewo; następnie lewy dolny sznurek przekładamy na prawo – na górę, a górny z prawej przekładamy na lewo do dołu) do momentu, kiedy sznurek będzie już za krótki, by umieścić go w nacięciu.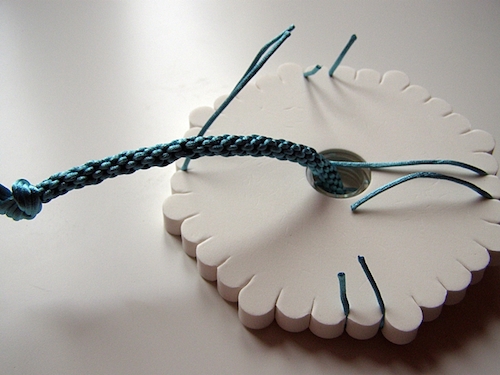 Teraz przyda nam się kawałek bezbarwnej taśmy klejącej. Mocno obklejamy nią wszystkie sznurki tuż przy końcu splotu.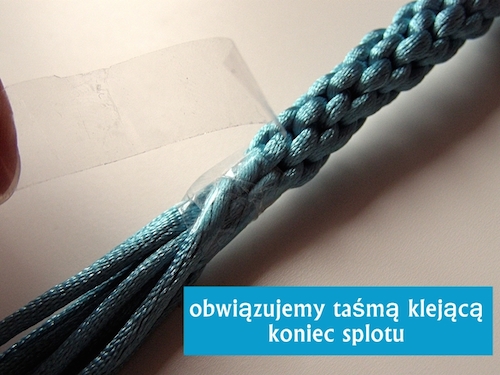 Podobnie czynimy z drugim końcem bransoletki, na której widnieje supeł zawiązany na początku. Rozwiązujemy supeł i kleimy taśmą.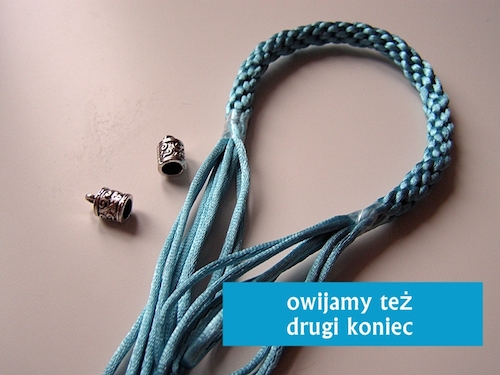 Obcinamy sznurki, mając na uwadze, że muszą wejść do zakończenia bransoletki (a więc wymierzmy, ile sznurka możemy przyciąć).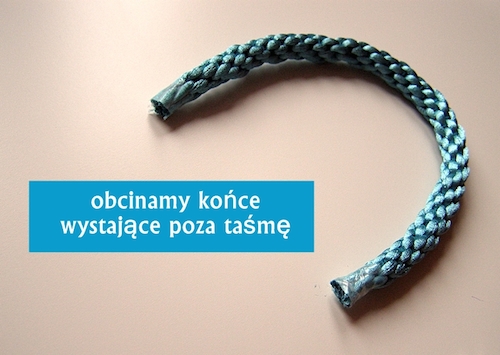 Teraz wlewamy odrobinę kleju do zakończenia bransoletki i wkładamy sznurki obwiązane taśmą klejącą do zakończenia – chwilę przytrzymujemy aż klej zacznie działać.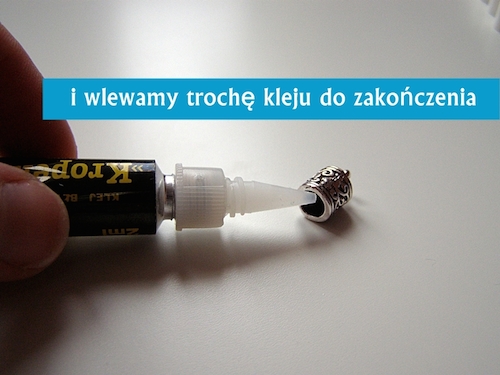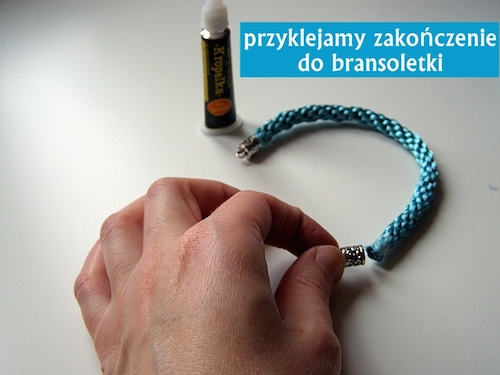 Na tym etapie wkładamy na zakończenia ogniwa i karabińczyk, który posłuży, jako zapięcie bransoletki. Oczywiście możemy dodatkowo zawiesić jakieś zawieszki i inne ozdoby.